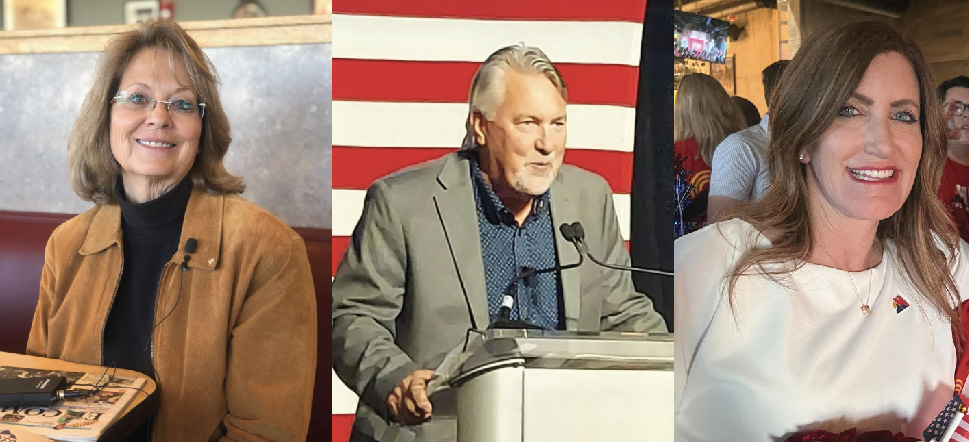 CANDIDATES| Barbara Kirkmeyer, Joe O'Dea, and Heidi Ganahl. (Photo/ El Comercio de Colorado)
A HISPANIC CANDIDATE FOR REPUBLICAN LIEUTENANT GOVERNOR
Newsroom El Comercio de Colorado
Haga click aquí para leer la versión en español
The three moderate candidates prevailed in the three most closely contested races in the Colorado Republican primary. Heidi Ganahl will be the Republican candidate who will challenge Jared Polis for governor of Colorado. Ganahl is a member of the University of Colorado Board of Regents. Thus, she is currently the only Republican holding an elected office that was decided by voters statewide.
In the primary, Ganahl faced Greg Lopez, a former mayor of Parker, Colorado. López subscribed to the political line of "Trumpism". This candidate repeated the arguments related to the illegitimacy of the election of Joe Biden and the idea, unfounded until now, that the victory was stolen from Donald Trump. This candidate repeated those arguments, but never received direct support from Trump.
To the Federal Senate
Like López, Ron Hanks, a senator candidate from the radical "trumpist" wing, was defeated in the Republican primary. Hanks denied the legitimacy of the presidential election and pointed out that he participated in the march that took the Federal Congress by storm on January 6, 2021. Hanks' defeat was carried out by Joe O'Dea, a construction businessman from the North of the state. Hanks has not held any public office.
O'Dea expressed that he supported the protection he provided "Roe vs. Wave". This businessman indicated he supported the ban on late-term abortion. But, he considered that, in the first stage of pregnancy, specifically in its first trimester, "the decision should be left in the hands of a woman, her doctor and her God. This position of O'Dea was distanced from that of his contender. However, he agreed with Hanks in seeking to facilitate the adoption.
The former commissioner is the candidate
In the race for the Republican candidacy for Circuit 8, Bárbara Kirkmeyer ended up winning. This candidate obtained more than 40 percent of the votes, being followed at a distance by Jan Kulmann, mayor of Thornton, and Lori Saine, state senator. The sum of the votes of Kulman and Saine did not reach the votes of Kirkmeyer. The candidate has been commissioner of the Weld padlock for a long period. She is also an agricultural producer.
Hispanic Candidate for Lieutenant Governor
Ganahl announced that she will have a Hispanic running mate. It was learned that he is a former commissioner from the south of the state linked to livestock production. His name will be released in a few days.
Democratic primaries without surprises
Meanwhile, the Democratic primaries managed to mobilize a large proportion of their voters even though the candidates for the most important positions presented themselves without contenders. This is the case of Jared Polis, Michael Bennett and Yadira Caraveo, who managed to be nominated as the Democratic candidates for Governor of Colorado, Senator for Colorado, and Representative for District 8 of Colorado, respectively.
Accepting the nomination for reelection as governor, Polis said, "As governor, I'm focused on doing what's right for Colorado. While others divide us with partisan agendas, I am working to do real work for Coloradans: helping families keep more of the money they earn, protecting communities from crime and wildfires, and defending their freedoms."
---
You may also like:
Greg Lopez: "I'm going to bring back qualified immunity to the police officers"
Joe O'Dea: "I understand what matters to working Americans"
Barbara Kirkmeyer: "I will work hard to keep jobs in oil, gas, and agriculture"
---